Our snack thins and manufacturing facility are:
Non-GMO • Vegan • Kosher • Gluten-free • Dairy-free • Nut-free • Fish-free • Soy-free • Egg-free • Sesame-free • Corn-free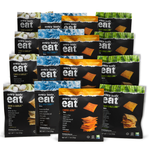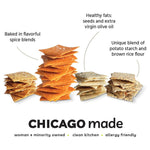 Why pick a favorite flavor when you can have them all? Get the party started or make lunch more delicious. The perfect little snack with a lot of taste.

Gluten Free
Corn Free
Vegan
Pegan
Light snack
Macros (IIFYM)
NOOM®
Virgin Diet
Kosher
FULL OF THE FLAVORS YOU WANT, FREE FROM THE STUFF YOU DON'T.
15 ingredients (the EU top 14 allergens, plus corn) are associated with more than 90% of food allergies, intolerances, and autoimmune diseases. So we got rid of them!
Food made easy for everybody to eat and share, everywhere.
2/3 of American households have special diets but, whether we have medically-mandated diets or strive for a healthy lifestyle, one fact remains: it is extremely hard to find good food and eat with the people we love. We wanted to change that.
Show us how you share on Instagram! @everybody_eating