Expect
Whole Food Ingredients
More than 90% of food allergies and intolerances are associated with 14 ingredients. We use exactly ZERO of them (and no corn) to make delicious, flavorful, unforgettable foods that just about anyone can enjoy, regardless of dietary needs.
Deliciously High
Standards
There's no cutting corners when it comes to clean, safe eating. When we couldn't find a manufacturer to make our snacks, without the risk of cross contact with the top 14 allergens or corn, we built our own kitchen.
What goes in our food
ancho chiles
brown rice flour
cayenne pepper
chia seeds
chives
extra virgin olive oil
garlic
hemp seeds
lime juice
nutritional yeast
onion
paprika
potato starch
pumpkin seeds
red chile pepper
sea salt
sunflower seeds
white pepper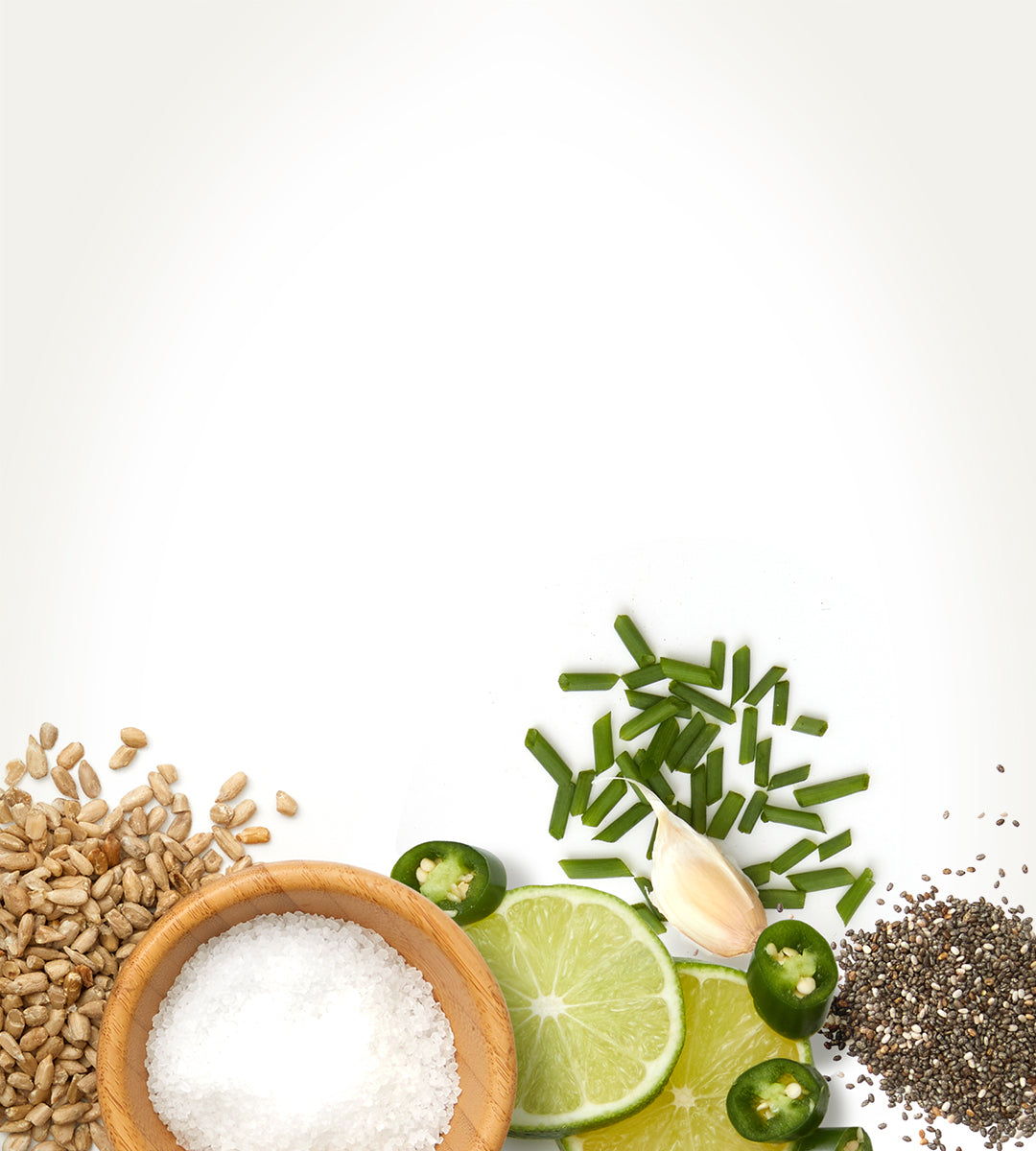 What Doesn't
wheat/gluten
milk/dairy
soy
peanuts
tree nuts
corn
sesame
eggs
sulphates
mustard
celery
lupin
sulfites
fish
shellfish
molluscs
citric acid
excuses!
We make delicious, craveable snacks that just about every body can enjoy together—regardless of dietary restriction or preference. We recognize that one food can't be a solve for every diet, so we're working hard to introduce new products as quickly as possible.
Diet
Snack Thins
Crisp
breads
Gluten Free
Grain Free
Corn Free
Vegan
Pegan
Keto
Keto-Friendly
Paleo
Weight Watchers
LOW-FODMAP
REINTRODCUTION/MAINTENANCE PHASE
REINTRODCUTION/MAINTENANCE PHASE
WHOLE30®
MAINTENANCE PHASE
AUTOIMMUNE PROTOCAL DIET (AIP)
MODIFIED DIET
MACROS (IIFYM)
NOOM®
VIRGIN DIET®
Kosher / Pareve
Our snacks' are a unique blend of gluten free proteins, non GMO ingredients, seeds, spice blends, flours, and more.
Our ingredients are so clean and simple, we list them all on the front of every package. 
Shop Now